New Presidential anti-corruption directorate created in Russia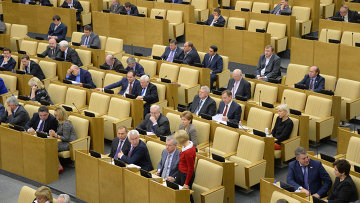 17:21 03/12/2013
MOSCOW, December 3 (RAPSI) - The State Duma supports the establishment of a special department in the Presidential Executive Office to combat corruption. The department will hold much broader authority than all previous anti-corruption organizations, the parliament members believe.
Russian President Vladimir Putin recently signed an executive order to establish an anti-corruption department. Oleg Plokhoi has been appointed head of the department. Previously, he was Deputy Head of the Presidential Department for Civil Service.
Anatoly Vyborny, member of the State Duma Committee for Security and Anti-Corruption Measures and member of United Russia, believes that for an anti-corruption policy to be efficient, the processes for enforcing the existing laws must be perfectly clear.
"This is exactly why a department for the prevention of corruption and anti-corruption measures has been established. It was necessary because the amount of work to be done in this area is considerable, and it was basically impossible to deal with it given the resources and staff that we had," the parliament member told journalists.
"They are authorized to hold anyone accountable, any public official, even at the highest levels, from the ministries and agencies, to the Investigative Committee and the Prosecutor's Office. They must have the power to actually perform their duties under the law," Vyborny stressed.
Irina Yarovaya, Head of the State Duma Committee for Security and Anti-Corruption Measures, said that the new department would handle specific tasks based on the President's executive orders and the current laws.
"I expect that this department will be in great demand as part of the entire system of measures and goals set by the President to fight corruption," she said. She also indicated that in addition to monitoring the income and expenses of public officials, the anti-corruption department would also carry out the full range of anti-corruption measures.
She believes it is symbolic that the President made the decision on Lawyer's Day. "In my opinion, the rule of law and respect for the law as a guarantee of general security will soon take top priority in society and the state," Yarovaya concluded.