German ex-president's bribery trial postponed for two weeks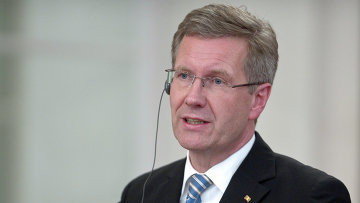 15:02 20/09/2013
BERLIN, September 20 (RAPSI) - Hannover court postponed the hearings of former German President Christian Wulff's bribery case from November 1 to November 14, the court's spokesperson told RIA Novosti on Friday.
The trial was moved on the request of Wulff's attorneys. In all, 18 hearings are scheduled to take place. Wullf will be the first German ex-head of state who will face trial as an accused party. He is charged with accepting a bribe and abuse of office.
Wulff stepped down in February 2012 over allegations of abuse of office. A probe was launched against him under several cases, although the investigations have by and large ceased.
However, the investigation is continuing in one case involving film producer David Groenewold. A friend of Wulffs, Groenewold allegedly paid for his hotel expenses in exchange for support for his business projects.
Groenewold paid 510 EUR for Wulff and his wife to stay at a hotel, as well as 209.4 euros for their dinner and other expenses during the Munich Oktoberfest in 2008, when Wulff was state premier of Lower Saxony. The film producer was charged with paying a bribe.
The office has recently asked Groenewold and Wulff to pay 30,000 EUR and 20,000 EUR, respectively, to suspend the legal proceedings. Such an opportunity is implied by German law. According to experts, if the suspects agree to pay, this will be an indirect confession of their guilt, although they will avoid legal prosecution.