Turkish PM announces sweeping cabinet reshuffle amid graft probe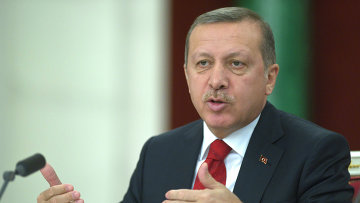 14:22 26/12/2013
MOSCOW, December 26 (RAPSI) - Prime Minister of Turkey Recep Tayyip Erdogan announced the names Wednesday of ten new ministers set to replace their predecessors amidst a broad reshuffling of his cabinet, according to Turkish news agency Anadolu.
Earlier in the day, Anadolu reported that three ministers had resigned in light of a pending anti-corruption investigation. Among these were Environment and Urbanization Minister Erdogan Bayraktar, Turkish Interior Minister Muammer Guler, and Economy Minister Zafer Caglayan.
According to the earlier report, the investigation had resulted in the arrests of two dozen "high-profile bureaucrats and businessmen," including the sons of Guler and Caglayan.
CNN reported that Bayradtar's son was briefly detained as well during the initial roundup, but was later released.
The anti-corruption probe came as the result of the Istanbul Prosecutor's Office two-year investigation into corruption allegations ranging from money laundering, to gold smuggling, to bribery, according to CNN.
New ministers announced by Erdogan Tuesday include: Deputy Prime Minister Emrullah Isler; Economy Minister Nihat Zeybekci; Minister of Environment and City Planning Idris Gulluce; Minister of EU Affairs Mevlut Cavusoglu; Minister of Family and Social Policies Aysenur Islam; Interior Minister Efkan Ala; Justice Minister Bekir Bozdag; Minister of Science, Industry, and Technology Fikri Isik; Transport, Maritime, and Communication Minister Lutfi Elvan; and Minister of Youth and Sports Akif Cagatay Kilic, according to Anadolu.