Governor of Russia's Sakhalin faces corruption charges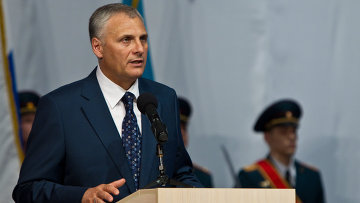 15:20 04/03/2015
MOSCOW, March 4 (RAPSI) – Sakhalin Region Governor Alexander Khoroshavin is allegedly involved in a corruption case, the Investigative Committee announced.
Khoroshavin was detained last night during an inspection. In the morning, he and several representatives of his staff were sent to Moscow.
The Investigative Committee reports that the Federal Security Service authorized and carried out 10 searches in Sakhalin and five in Moscow and the Moscow Region. During the searches at Khoroshavin's apartment in Moscow, his country house and estate, inspectors seized large sums of cash in rubles and foreign currency, a large amount of jewelry and expensive watches, and mobile phones.
Khoroshavin was detained and escorted to Moscow. On Wednesday the court will determine a pre-trial detention measure for the governor and his three accomplices.
Under the Criminal Code, an individual who reports a bribe incident shall be released of criminal liability and a large fine." The very fact that such a criminal case was opened "confirms the state's determination to fight corruption and its principle of not providing immunity to anyone involved", according to the Investigative Committee's statement.