Former Russian mayor arrested on suspicion of corruption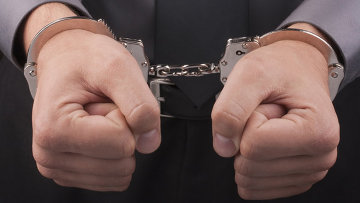 12:55 14/05/2015
MOSCOW, May 14 (RAPSI) – Police have arrested Alexander Migulya, former mayor of Blagoveshchensk, a city in the Amur Region in the Russian Far East, who was placed on the wanted list on suspicion of corruption in 2011.
"According to investigators, in 2006 the suspect issued an illegal order to buy a motorway bridge across the Chigiri River for over 46 million rubles (around $1 million) in public funds," the Investigative Committee said in a press release.
In 2008, Migulya sold a land plot at 10 percent of its actual value causing damages of 20 million rubles ($403,800) to the city. The Investigative Committee claims that between November 2009 and April 2010, he was a top manager at and did other favors to a local company, contrary to a bill prohibiting government officials from holding positions in business.
Investigators also hold that in 2005 Migulya allowed two "friendly" companies not to pay lease fees to the city, which resulted in the budget shortfall of about 200 million rubles ($4 million).
"The suspect will soon be delivered to the Amur Region for investigating all circumstances of his alleged crimes," the Investigative Committee said. It did not report where Migulya was arrested.