Prosecutor General's Office handles Pussy Riot Tolokonnikova's complaint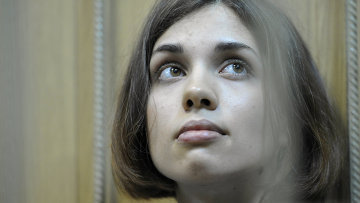 17:50 07/05/2013
MOSCOW, May 7 (RAPSI) - The Prosecutor General's Office has forwarded a complaint filed by Pussy Riot member Nadezhda Tolokonnikova who is serving a two-year sentence for a "punk prayer" on inhumane conditions in Penal Colony No. 14. to the Mordovian Prosecutor Generals Office, her attorney Dmitry Dinze told RAPSI.
"Maria Gavrilova, the prosecutor of the Department for Controlling the Legitimacy of the Execution of Criminal Penalties under the Prosecutor Generals Office, has notified me in writing that the execution is being supervised by the Prosecutor Generals Office," Dinze said.
Tolokonnikovas attorney has requested an inspection of the penal colony where she is serving her sentence, claiming that prisoners labor rights and fire safety norms are violated, while the sanitary and living conditions are poor.
In February 2012, five young women wearing brightly colored balaclavas staged a "punk-style" prayer in the Christ the Savior Cathedral in Moscow. An edited video of their performance was posted on the Internet and caused a public outcry.
In August 2012, the Khamovnichesky District Court sentenced Tolokonnikova and two other Pussy Riot members - Maria Alyokhina and Yekaterina Samutsevich - to two years in a prison settlement for hooliganism.
In October 2012, the Moscow City Court changed Samutsevich's verdict to a suspended sentence and released her immediately based on her new attorneys' argument that she was seized by security guards prior to reaching the altar.
Tolokonnikova's and Alyokhina's sentences were upheld.