Yukos ex-shareholder convicted of misappropriating shares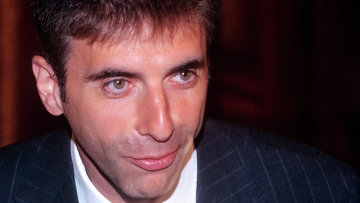 11:23 24/06/2013
MOSCOW, June 24 (RAPSI) - A Moscow court found former Yukos shareholder Leonid Nevzlin guilty Monday of having misappropriated shares, RAPSI reports from the courtroom.
The trial against Nevzlin was held in absentia, as the accused remains at large.
Nevzlin is believed to have misappropriated 38 percent of the shares in Tomskneft, the Achinsky Refinery and other companies as a member of an organized crime group in 1998.
The shares were contributed to VNK's charter capital and valued at over 3 billion rubles ($94.21 million).
Major YUKOS shareholders and executives Mikhail Khodorkovsky, Platon Lebedev and YUKOS EP Executive Manager Ramil Burganov were earlier convicted in the case.
However, Nevzlin's attorney earlier told RAPSI that this information is untrue. He said that the Moscow Khamovnichesky District Court looked into the VNK episode as part of the second YUKOS case and passed a separate ruling jointly with Khodorkovsky and Lebedev's sentence.
The case against them was closed as the 10-year statute of limitations had expired.
Three lawsuits have been initiated under the Nevzlin's criminal case. One lawsuit over a 3.6 billion ruble ($113.05 million) claim was filed by the Federal Agency for State Property Management. The other lawsuits were submitted by two VNK shareholders, who demand that VNK pay them dividends worth 20,000 ($628) and 40,000 rubles ($1,256), respectively.
Nevzlin was earlier sentenced to life imprisonment for masterminding the murder or attempted murder of East Petroleum Handelsgas Gmbh Executive Manager Yevgeny Rybin, Moscow PR Department head Olga Kostina and Rosprom Business Manager Viktor Kolesov.
Additionally, in 2004 the Prosecutor's General Office issued charges on economic and tax grounds in 1999-2000. Nevzlin was accused of tax evasion and misappropriating assets.
Investigators claimed that the damages from tax evasion exceeded 26 million rubles ($820,600) and the damages from misappropriation exceeded 30 million rubles ($946,900).
Nevzlin served as the chancellor of the Russian State Humanitarian University in 2003.
In the same year, he emigrated to Israel and received citizenship when the YUKOS case was opened.