Russian boxer sentenced for manslaughter after deadly street fight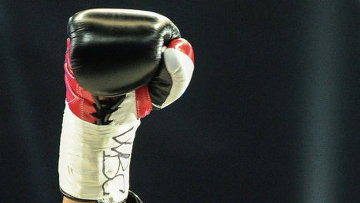 12:39 26/06/2013
YEKATERINBURG, June 26 (RAPSI) - Valery Tretyakov, a boxer at one of the best clubs in Moscow, has been found guilty of negligently causing the death of a man in Russia's Sverdlovsk Region and sentenced to 12 months of custodial restraint, a local investigative officer told RAPSI.
Custodial restraint is a form of punishment introduced in Russia in December 2009. As part of the punishment, a convict faces various restrictions, such as a ban on leaving home at certain hours, on visiting specific places, on leaving their city, on attending mass events, and on moving to a new residence without the permission of a supervisory body.
The prosecutor had asked for a term of 16 months, while the defense attorney argued that the boxer should be released because he was acting within the limits of justifiable self-defense.
"The boxer has been sentenced to one year of custodial restraint," the source said, adding that he also has to pay 300,000 rubles ($9,170) to the deceased man's relatives.
According to the investigators, on the night of October 21, 2012, Tretyakov and his brother got into an argument with a young man on the porch of a cafe in the city of Kamensk-Uralsky in the Sverdlovsk Region.
The young man was the first to hit the boxer from behind the cafe's former security guard, who was standing in front of him. The boxer hit back at least twice, the blows landing on the attacker's head. The young man fell, hitting his head on the asphalt, and died at the scene.
Tretyakov absconded but two days later surrendered to the police, who ordered him not to leave town. The boxer's actions were classified as manslaughter, which is punishable by up to two years in prison. In his final statement, Tretyakov asked for forgiveness.
The case parallels that of Rasul Mirzayev, a promising MMA fighter who was convicted on similar charges in February. He was undefeated in the ring and two of his five victories were won with knockouts.
On August 16, 2011, after the incident but before his arrest, Mirzayev made headlines in the MMA world for signing a professional multi-fight contract with Bellator Fighting Championships.
Mirzayev was initially charged with intentional infliction of grievous bodily harm which resulted in death. During their fight outside a popular Moscow nightclub, student Ivan Agafonov, 19, received a blow to the head and collapsed. He died in the hospital without regaining consciousness.
Mirzayev was eventually convicted of manslaughter and was released on the basis of time served.