Pussy Riot's Samutsevich loses verdict appeal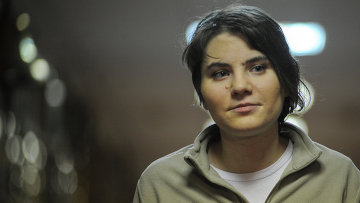 10:26 27/06/2013
MOSCOW, June 27 (RAPSI) - The Moscow City Court has dismissed Pussy Riot member Yekaterina Samutsevich's appeal of the suspended sentence she was handed for hooliganism motivated by religious hatred after the punk rock group's now infamous performance in Moscow's Christ the Savior Cathedral, according to an announcement released by the court.
Samutsevich's lawyer asked the court to reverse the judgment and to close the case because it is unclear from the verdict what crime she was sentenced for. The charges against Samutsevich were reviewed during the court hearing, which worsened her situation and violated her right to defense, the lawyer claims, adding that the verdict includes obscene words, which is inadmissible for official documents.
Judge Yelena Rotanova said in the ruling that conclusions about Samutsevich's guilt were based on the testimony of victims and witnesses, as well as Samutsevich herself and the other Pussy Riot members.
The judge also dismissed the lawyer's challenge of the use of psychological and linguistic examination of the girls' song as testimony. "There are no obscene or any other words or phrases in the verdict that are inappropriate for official documents, so the lawyer's arguments that the verdict passed on Samutsevich is unclear cannot be considered acceptable," the ruling says.
The court has also determined that "Samutsevich and her accomplices did feel hatred towards a certain social group of Orthodox Christians."
In February 2012, five young women wearing brightly colored balaclavas staged a punk rock prayer in Moscow's Christ the Savior Cathedral. An edited video of their performance was posted on the Internet and caused a public outcry.
In August 2012, the Khamovnichesky District Court in Moscow sentenced Samutsevich and two other Pussy Riot members - Nadezhda Tolokonnikova and Maria Alyokhina - to two years in a prison settlement for hooliganism.
In October 2012, the Moscow City Court changed Samutsevich's verdict to a suspended sentence and released her immediately based on her new attorneys' argument that she had been seized by security guards prior to reaching the altar.
The sentences of Alyokhina and Tolokonnikova were upheld.