Ex-Ukrainian Interior Minister fails in bid to prosecute prosecutors, judges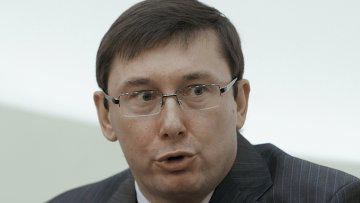 16:14 01/07/2013
KIEV, July 1 (RAPSI) - The Kievo-Svyatoshinsky District Court in the Kiev Region has rejected a motion filed by former Ukrainian Interior Minister Yuri Lutsenko on refusal of the Prosecutor General's Office investigator to open criminal case against the prosecutors and judges who issued the orders to detain and arrest him, the Unian news agency reports on Monday.
In particular, Lutsenko sought to have First Deputy Prosecutor General Renat Kuzmin, investigator Serhiy Voichenko, and several judges of the Pechersky District Court and appeals courts in Kiev brought to account.
The former minister, who actively supported former Prime Minister Yulia Tymoshenko's presidential bid, was arrested in late 2010. The Prosecutor General's Office accused him of abuse of office by illegally giving his personal driver a police job, and granting him a state apartment and retirement benefits. Another manifestation of abuse of office was an overly sumptuous celebration of Police Day during the economic downturn in 2009.
The Prosecutor General's Office also brought embezzlement charges against him. The Pechersky Court convicted him on February 27 and sentenced him to four years in prison. The appeals court upheld the ruling.
In August 2012, the Pechersky District Court in Kiev sentenced Lutsenko to two years of custodial restraint for dereliction of duty during the investigation into the alleged poisoning of presidential candidate Viktor Yushchenko in 2004.
On April 3, 2013, the High Specialized Court upheld the first four-year sentence handed down to Lutsenko on charges of abuse of office, according to which he was to remain in prison until late 2014. However, President Viktor Yanukovych pardoned the former minister on April 7 and he was released the same day.
In accordance with Ukrainian legislation, when two or more sentences are to be served concurrently, the shorter ones are considered to be "absorbed" within the longer sentence. Therefore, the court's decision to uphold Lutsenko's second, shorter sentence was a formality and will not infringe on his rights.