Commercial court rules against reregistering valio.ru domain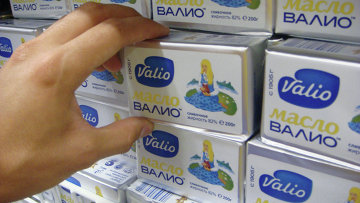 12:38 13/08/2014
MOSCOW, August 13 (RAPSI) - In a lawsuit filed by Valio Ltd (Finland) against Russian writer Dmitry Lipskerov, the Moscow Regional Commercial Court has prohibited the site's registrars from carrying out any registration related operations with respect to the valio.ru domain, a court spokesperson told RAPSI.
The court upheld a motion by the Finnish dairy products company to issue a temporary injunction to the Regional Network Information Center to refrain from any registration related activity before a court decision is reached. The preliminary hearing will be held on September 8.
Valio Ltd demands to prohibit Lipskerov from using the Valio trademark, which is owned by the plaintiff, in any domain name. The plaintiff is also suing for 100,000 rubles ($2,760) in compensation for infringing on the exclusive rights to the brand.
The company's claim states that it is the exclusive owner of the rights to the Valio trademark. While conducting business in Russia, the plaintiff became aware of a domain name, valio.ru that had been registered by a third party. The domain name includes the protected trademark.
On April 30, the Regional Network Information Center informed the plaintiff that the domain name was held and administered by Lipskerov. Since the evidence proves that the plaintiff holds the exclusive registered rights to the Valio trademark and it has also been proven that the defendant is the administrator of valio.ru, the court issued a temporary injunction. In Russia, the Finnish company operates the website valiorussia.ru.
On August 12, a search at Finnish dairy product producer Valio was conducted in St. Petersburg as part of a 45 million ruble banking case, the official spokesman for the Investigative Committee, Vladimir Markin, announced. "The purpose of the Investigative Committee search was to uncover new evidence against defendants in a criminal case and was not related to Valio's business activities," he noted.
"The investigation in this case found that in 2011-2013, a criminal group was involved in illegal banking activity in a number of Russian regions that eventually took in over 45 million rubles ($1.2 million). It has been revealed that members of the criminal group transferred funds to the accounts of over 20 legal entities, including the Valio offices in St. Petersburg, that were disguised as legal banking transactions," Markin said.
Valio's products were recently banned in Russia. Russia has banned the import of many agricultural products and food products from several countries for one year in response to sanctions against Russia. The countries include the US, the EU, Canada, Australia and Norway. The ban includes beef, pork, poultry, fruit, vegetables, cheese, dairy, nuts and other products.
Valio announced that it will continue production in Russia and the restrictions will only affect the production lines in Finland that were targeting the Russian market.