Italian highest court to decide on Amanda Knox guilty verdict - report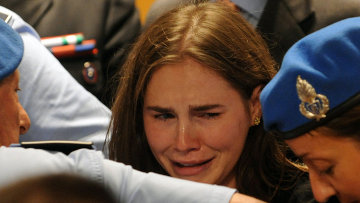 11:37 23/03/2015
MOSCOW, March 23 (RAPSI) – The highest court of Italy, the Court of Cassation, is expected to begin hearings related to infamous case of Amanda Knox, US national found guilty of murder in Italy, on March 25, The Independent reports.
If Knox is confirmed guilty she may be extradited from the USA to Italy where she has been sentenced to 28,5 years in prison for murder of British student Meredith Kercher in 2007. Her ex-boyfriend, Italian national Raffaele Sollecito, has been found guilty of participating in that murder as well.
In 2009, Knox was sentenced to 26 years for the murder of her roommate, UK exchange student Meredith Kercher. But two years later an appeals court overturned the verdict, accepting the lawyers' argument that crucial DNA evidence had been contaminated by the police. In 2013, Italy's Supreme Court ruled that the case be returned for retrial.
Knox is living in the United States, but Sollecito is in Italy, and so the court ruled that his passport be revoked to prevent him from leaving the country. The judge made no request to limit Knox's movements.
In 2014 an appeals court in Florence upheld the guilty verdict against Knox in an in-absentia retrial and sentenced her to 28.5 years of imprisonment for Kercher's murder.
The court has also found her Italian ex-boyfriend, Raffaele Sollecito, guilty and confirmed his previous sentence of 25 years.
In 2007, Meredith Kercher, aged 21, was found half-naked with her throat cut in the apartment she shared with Knox and two Italian girls in the university town of Perugia. According to investigators, Knox, then 19, and Sollecito raped and killed Meredith because she refused to participate in their drug-fuelled orgy. Knox and Sollecito claim that the killer is small-time drug dealer Rudy Hermann Guede, who is serving 16 years for this murder.