Case materials in notorious Moscow riots vanished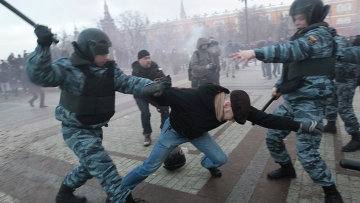 17:26 20/09/2011
MOSCOW, September 20 - RAPSI. An individual accused of organizing the riots on Manezh Square claimed that some of the case materials have gone missing, the Russian Legal Information Agency (RAPSI) reported from the courtroom on Tuesday.
As many as 5,000 football fans and nationalists caused public disorder on December 11, 2010 in central Moscow after a rally to commemorate FC Spartak fan Yegor Sviridov, who was shot dead five days earlier. Thirty-two people were injured in the riots.
Law enforcement authorities have opened dozens of criminal proceedings against the rioters. A separate case was opened over assaults on police officers.
The court continued to study photo and video evidence in the case on Tuesday. During the hearing, some photo materials that were earlier declared by the prosecutor were gone. A number of videos were watched without sound and others could not be examined for technical reasons.
While unsealing the envelopes containing the evidence, it was established that Ruslan Khubayev, the accused, had been the last individual to watch the files.
However, he said in court that all the evidence had been present when he examined the materials. He also said he had comments to the files.
The prosecutor did not comment on his statement.