Court to resume Alexander Lebedev's defamation suit against publisher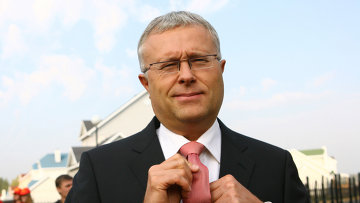 12:18 29/09/2011
MOSCOW, September 29 - RAPSI, Dmitry Shchitov. The court scheduled for October 27 its hearing of the defamation lawsuit filed by billionaire Alexander Lebedev and his National Reserve Bank (NRB) against Kommersant publisher, the Russian Legal Information Agency (RAPSI) reports from the courtroom.
The plaintiff seeks 11 million rubles ($393,000) in damages,.
Lebedev requested that Kommersant newspaper refute the information that NRB was prosecuted for state funds embezzlement . The funds were allocated to bailout the Rossiysky Capital bank. The story was carried in the April 26 issue. It alleged that investigators initiated a criminal case for large-scale fraud in August 2010, NRB offices were searched and Lebedev was interrogates as a witness.
The Moscow Commercial Court received two more lawsuits against Kommersant based on other stories about the criminal case.
According to the National Reserve Bank website, the National Reserve Corporation (controlled by Lebedev) holds 59.83 percent of the bank, Lebedev holds 4.58 percent, his son Yevgeny holds 13.79 percent. Media reported in May that Lebedev was about to sel 56 percent of his NRB shares.