Bank files multimillion lawsuit against Inteko development company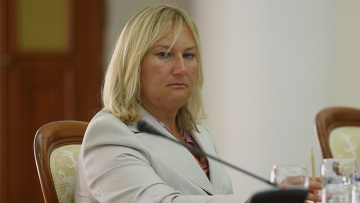 14:02 29/09/2011
MOSCOW, September 29 - RAPSI, Sergei Feklyunin. A commercial court registered a lawsuit filed by Soyuz Bank against the Inteko construction company, established by Russia's richest woman and the wife of former Moscow Mayor Yuri Luzhkov Yelena Baturina, the Russian Legal Information Agency (RAPSI) reported on Thursday.
Inteko is a multi-profile company and one of Russia's top development firms.
Deposit Insurance Agency holds a controlling 50 percent plus one share stake in Soyuz Bank. Ingosstrakh, part of Basic Element controlled by famous Russian businessman Oleg Deripaska, holds the remaining shares.
The lawsuit was filed with the court on September 28. The hearing date has not yet been set.
Soyuz Bank submitted another lawsuit on the recovery of about 11 million rubles ($345,550) from Inteko in December 2010. The dispute stemmed from a preliminary contract on the lease of non-living premises. The bank demanded that the company returns 1.796 million rubles ($56,420) in option payments, 2.694 million rubles ($84,630) in security deposits and 6.484 million rubles ($203,688) for executed works.
The Moscow Commercial Court partially satisfied the bank's lawsuit in May, having refused to recover the amount for the conducted works. The appellate court upheld the decision.
The bank submitted another lawsuit to the court to recover the amount.