Court plays records of Bout's talks with alleged FARC commanders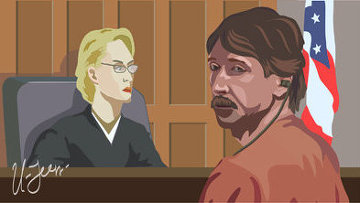 10:28 20/10/2011
NEW YORK, October 20 - RAPSI. The prosecution played to the jury on Wednesday records of eavesdropped talks between Viktor Bout and US informers who pretended to be Colombian revolutionary forces' (FARC) commanders.
The New York Federal Court heard Bout discussing a proposed weapons delivery for FARC with prospective buyers, including technical details and the equipment servicing issues. The talks were conducted in English and Spanish. The jury was supplied with a transcript and the prosecutor read out the passages, which he deemed most important.
The records have been produced on the second day of Carlos Sagastume's interrogation. Sagastume is the Drugs Enforcement Administration's (DEA) informer who presented himself as a Colombian militant.
The prosecutor's office announced on Wednesday its intention to complete the witnesses' interrogation on October 31 and to come over to the trial's final stage - the prosecutor's and attorney's final speeches. The defense has not introduced a single witness.
The United States have charged Bout with conspiring to kill Americans and US officials, illegal surface-to-air missile trafficking, and supporting terrorism through cooperation with the Colombian guerilla organization FARC.
Bout has pleaded not guilty to all charges.