Tymoshenko's defense has no hope for justice in appeals court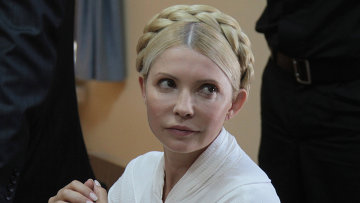 14:57 25/10/2011
KIEV, October 25 - RAPSI. Former Ukrainian Prime Minister Yulia Tymoshenko, who was sentenced to seven years in prison for abuse of office, has no hope for justice in the appeals court, defense counsel Sergei Vlasenko told journalists on Tuesday.
Yesterday, Tymoshenko handed over her appeal against the judgment to the Kiev pretrial detention center's management. Meanwhile, her attorneys submitted a copy of the appeal directly to the court to avoid any possible delay.
The Kiev District Court sentenced Tymoshenko to seven years in prison on October 11 for abuse of office in connection with gas contracts signed in 2009 between Russia's Gazprom and the Ukrainian Naftogaz. The court ruled that Tymoshenko abused office by approving gas talks with Moscow without the government's support.
The court also banned her from taking public office within three years and fined Tymoshenko $189.5 million for losses incurred by Naftogaz of Ukraine.
The sentence may be appealed within 15 days. The lawyers said it will take at least a month to bring the case to the end.