Request for HPP environmental impact assessment postponed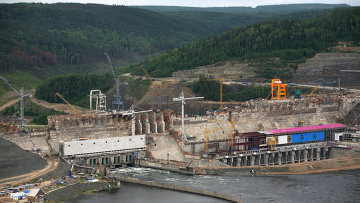 14:48 07/11/2011
KRASNOYARSK, November 7 - RAPSI. A court has postponed until November 28 its hearing of the prosecutor's office's claim to order the Boguchany hydropower plant to assess its hydraulic facility's future environmental impact, the court told RIA Novosti on Monday.
It was earlier reported that World Wildlife Fund Russia requested the Russian president to suspend the construction until the environmental impact assessment is completed.
The construction of the power station started in 1980, but was suspended in 1994 due to a lack of financing. Work on the project resumed in 2005 when RAO UES (then the owner of RusHydro) and Rusal agreed to develop the Boguchany Energo-Metallurgical Union project jointly.
Construction restarted in 2007. It is expected that Boguchany hydropower plant will have a capacity of 3 GW and the Boguchany Aluminium Smelter will produce 600,000 tones of metal per year.
RusHydro and Rusal expect to start the power station's first three generators by April 2012.