Prosecution wants to charge GOLOS organization for pre-election campaign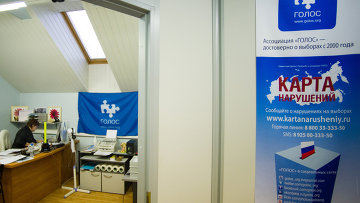 16:15 02/12/2011
MOSCOW, December 2 - RAPSI. The prosecutors office asked the court to fine GOLOS Association, which is accused of violating the regulations for providing informational support during the elections, the Russian Legal Information Agency (RAPSI/rapsinews.com) reported from the courtroom.
The prosecutor's office said the association allowed information to be published on preparations for the elections during the prohibited timeframe. The law stipulates the time period when such information can and cannot be distributed, it added.
The banned period begins on November 29 when GOLOS published its data.
Meanwhile, an application has been filed with the prosecutor's office and signed by Central Election Commission head Vladimir Churov. He said GOLOS distributed defamatory information about United Russia.
According to GOLOS, the supervisory agency suspected the association of falsifying the data and spreading rumors to defame a party taking part in the elections.
Earlier, State Duma deputies from the United Russia, Liberal Democratic Party and A Just Russia party factions asked the Prosecutor General's Office to check the company's activity and to decide whether it has violated pre-election law.
The request deals with a statement made during the pre-election campaign, which was published on GOLOS' website and on Karta Narusheniy's website. The warning by the prosecutor's office reads that the association has "falsified data of public importance" and "spread rumors in the guise of true statements" to defame a party and its members.
GOLOS said it was part of a broad government campaign to discredit non-profit groups promoting human rights and democracy ahead of the December 4 parliamentary elections, which could see United Russia lose its two-thirds majority.