Opposition rally leader sentenced to 15 days in detention
16:40 06/12/2011
MOSCOW, December 6 - RAPSI. The 307th Magistrates Office on Tuesday sentenced opposition rally leader Ilya Yashin, who was detained on Monday in central Moscow, to 15 days in detention, the Russian Legal Information Agency (RAPSI/rapsinews.ru) reports from the courtroom.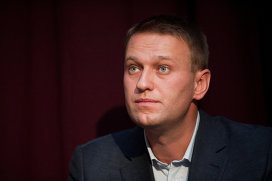 © RIA Novosti, Pavel Lisitsin
Renowned whistleblower, blogger and lawyer Alexei Navalny
According to the police, 300 people were detained in Moscow for unauthorized demonstrations on Monday night. The arrests began after the participants of an authorized opposition meeting arranged a procession toward Lubyanka Square. The meeting was held on the backdrop of the State Duma elections.
"I was with Alexey Navalny (renowned blogger who was also at the meeting) and a fantastic thing happened. They took our belongings, put us into a bus without any signs and drove us to the Vostochny Settlement Interior Department, and then to Kitai-Gorod. We were denied lawyers or any possibility to make a call," Yashin said.
Earlier, Navalny's attorney Vadim Kobzev said Yashin was charged with disobeying a police officer.