U.S. court's consents to disclose petition for asylum has no precedent, attorneys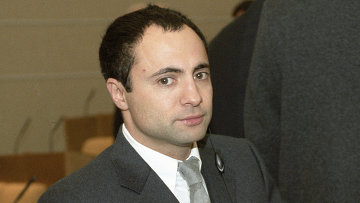 15:58 14/12/2011
MOSCOW, December 14 - RAPSI. Ashot Yegiazaryan's attorneys have said that a U.S. court's decision to provide access to their client's political asylum petition to the defendant in his defamation lawsuit is unprecedented.
Earlier, Yegiazaryan was stripped of his parliamentary immunity. He faces a criminal investigation in Russia and was placed on the international wanted list. In April, he filed a defamation lawsuit against U.S. citizen Pyotr Zalmayev.
The former deputy claimed that he was the victim of a corporate raid that was initiated by a number of Russian businessmen, as well as ex-Moscow Mayor Yury Luzhkov. In Yegiazaryan's opinion, the conflict stemmed from his participation in the Moskva hotel renovation project.
Yegiazaryan said the negative public relations efforts against him were part of the corporate raid. Zalmayev heads the Eurasia Democracy Initiative research association.
While preparing to hear Yegiazaryan's lawsuit, the court satisfied the defendant's application to receive access to Yegiazaryan's asylum petition.
Yegiazaryan's attorneys said the ruling is unprecedented.
The attorneys also observed Zalamayev's unnatural obsession with and his morbid interest in Yegiazaryan's private life.
Russian investigators believe Yegiazaryan and three accomplices fraudently acquired 20 percent of the shares in Tsenturion Alliance worth 1.57 billion rubles ($49.5 million).
He is under investigation on fraud charges in Russia and faces 10 years in prison.