Court terminates bankruptcy proceedings of major car manufacturer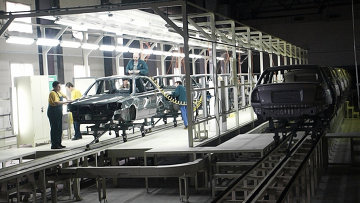 14:29 30/12/2011
ROSTOV-ON-DON, December 30 - RAPSI. A commercial court terminated proceedings in VTB Bank's lawsuit to declare Taganrog Motor Works (TagAz) bankrupt, the court told RIA Novosti.
"The proceedings were terminated since VTB has withdrawn the lawsuit," the court's spokesperson said.
After TagAz's output plummeted by a factor of three in 2009 it accumulated 20 billion rubles ($621 million) of debt to its lenders. The following year TagAz agreed to reschedule the debt with all the banks except VTB. Its liabilities to VTB stood at 5.8 billion rubles ($180.13 million).
In 2010 VTB filed several lawsuits against TagAz to recover the debt under its loans.
In July TagAz secured a deferral until late December regarding repayment of the 726 million rubles ($22.54 million) owed to VTB and a deferral of its debt repayment installments until December 2012.
VTB applied for the bankruptcy of TagAz in September.
TagAz was founded in February 1997. It began working with South Korea's Hyundai in 2001.