Russia to press for Berezovsky's extradition - Prosecutor General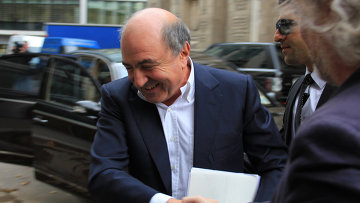 10:49 12/01/2012
MOSCOW, January 12 - RAPSI. Russia will continue to press for the extradition of businessman Boris Berezovsky, since he has been charged and convicted in several criminal cases, Prosecutor General Yury Chaika said when commenting on the Berezovsky's statement that he is ready to come back to Russia if Prosecutor General stops inviting him.
"Prosecutor General will not stop inviting him, as there are still some questions to Mr. Berezovsky in the legal area... Sooner or later he will have to incur liability for what he has done," Chaika told the Rossiyskaya Gazeta newspaper in an interview, which is expected to be published on Thursday.
Chaika also said that several judgments against Berezovsky have already become effective and must be enforced. Besides, the exiled oligarch, who currently stays in London, is being prosecuted in a number of other criminal cases, including outside Russia.
Berezovsky moved to the UK in 2000. In 2003 the UK court refused to extradite him to Russia at the request of the Prosecutor General's office. Meanwhile, the British government granted him a refugee status.
Russian court convicted Berezovsky for fraud, AvtoVAZ, LOGOVaz and Aeroflot funds embezzlement and money laundering. Berezovsky has been sentenced in absentia to 13 and 6 years in prison.