U.S. court gives defendant access to plaintiff's documents in defamation case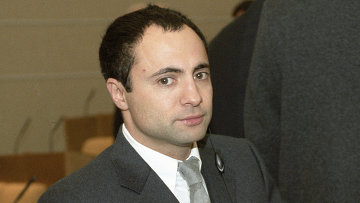 16:15 13/01/2012
MOSCOW, January 13 - RAPSI. A U.S. court has turned down a petition filed by former Russian MP Ashot Yegiazaryan to prohibit the defendant in his defamation lawsuit from inspecting his political asylum application, according to a copy of the court order made available to the Russian Legal Information Agency (RAPSI/rapsinews.com).
Yegiazaryan faces a criminal investigation in Russia for large-scale fraud. He was placed on the federal wanted list in November 2010 and on the international wanted list in December. In April, he filed a defamation lawsuit against U.S. citizen Peter Zalmayev, alleging that he defamed him by publishing in the Jewish Journal false statements damaging Yegiazaryan's reputation. He called on the U.S. authorities to deny him political asylum.
Yegiazaryan claimed that he was the victim of a corporate raid initiated by Russian businessmen Suleyman Kerimov and Arkady Rotenberg, as well as ex-Moscow Mayor Yury Luzhkov. In Yegiazaryan's opinion, the conflict stemmed from his participation in the Moskva Hotel renovation project.
Russian investigators believe Yegiazaryan and three accomplices fraudulently acquired 20 percent of the shares in Tsenturion Alliance worth 1.57 billion rubles ($49.6 million).
Investigators also believe that in 2002 and 2003 Yegiazaryan offered an opportunity to his friend Mikhail Ananyev to finance the construction of a shopping center on the Rublyovskoye Highway and the reconstruction of the Moskva Hotel in Moscow. Yegiazaryan promised Ananyev a share in the business based on Ananyev's investment.
Yegiazaryan is now accused of embezzling Ananyev's over 500 million ruble ($15.7 million) investment.