Adverse judgment in trademark infringement dispute with Heineken appealed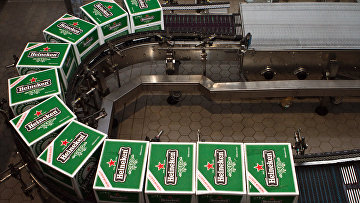 16:51 13/01/2012
ST.PETERSBURG, January 13 - RAPSI. A Russian alcohol company has appealed a court-imposed prohibition to use images similar to those registered to St. Petersburg-based Heineken United Breweries, the court documents read.
Vinagroprom has challenged the Nizhny Novgorod Regional Commercial Court's May 13 decision in the trademark infringement lawsuit filed by Heineken United Breweries. The court judgment was later upheld by an appeals court in October 2011.
The dispute centers on the Okaskaya Lux vodka produced by Vinagroprom.
Meanwhile, Heineken owns the Okskoye trademarks.
The court held for Heineken and prohibited Vinagroprom from using the Okaskaya trademark on its products. The court also recognized the disputed trademarks as confusingly similar and ordered Vinagroprom to destroy goods, labels and packaging with the Okaskaya trademark. Vinagroprom was also ordered to pay 1.5 million rubles ($47,300) in compensation for trademark infringement.
Heineken is a Dutch brewery founded in 1863. Heineken United Breweries has been operating in Russia since February 2002.