Court to consider shipyard's $140 mln actions against two banks in March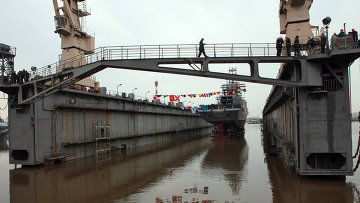 11:31 20/01/2012
MOSCOW, January 20 - RAPSI. A commercial court on Friday scheduled March 1 for hearing Northern Shipyard's (Severnaya Verf) lawsuit to recover $94 million in losses from Alfa-Bank and a $46.7 million lawsuit against VTB Bank, the Russian Legal Information Agency (RAPSI/rapsinews.com) reports from the courtroom.
Under the statements of claim the banks are also required to provide loans pursuant to the government order dated September 8.
In November the shipyard lodged two lawsuits against VTB and Alfa-Bank with the Moscow Commercial Court and one lawsuit against Sberbank branch with the St. Petersburg and Leningrad Region Commercial Court.
Thereafter the shipyard said it expects the courts to oblige the banks to issue loans as prescribed by the government directive, implying that the three lenders should provide a 22 billion ruble ($700 million) credit facility in 2011 for the shipyard to execute the state defense procurement order.
Earlier the shipyard received government guarantees and was chosen as the excusive manufacturer of 20385 Project corvettes. It has entered into a contract with the Defense Ministry for building four ships. The Navy declared that it needs 20 ships of such class.
The shipyard is now building fourProject 20380 corvettes, two Project 22350 frigates and a Project 18280 communications vessel.