Dispute between St. Petersburg-based shipbuilders postponed until March 1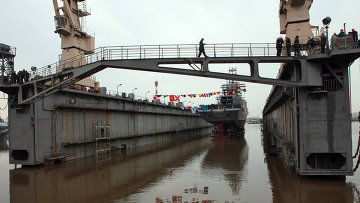 13:29 27/01/2012
ST.PETERSBURG, January 27 - RAPSI. A St. Petersburg court adjourned on Thursday until March 1 its hearing of a lawsuit filed by Western Shipbuilding Center against the Severnaya Verf shipbuilding company, RIA Novosti reported on Friday.
The center requires holding a meeting of the Severnaya Verf shareholders.
The court adjourned the case because the defendant has not studied the revised claim yet.
The Western Shipbuilding Center proposes to set a registration deadline for shareholders' meeting in accordance with the court decision's effective date.
Severnaya Verf is a part of United Industrial Corporation owned by former Senator Sergei Pugachyov. Severnaya Verf, along with other UIC's shipbuilding companies, was pledged as a security for the 32 billion ruble ($1 billion) loan granted by the Central Bank to the bankrupt Mezhprombank.
The shipbuilder's shares have been recently transferred to the Central Bank for trust management.
Severnaya Verf is a leading shipbuilding enterprise, primarily engaged in the construction of naval ships and commercial vessels. Its major customers are the Defense Ministry and foreign Navies as well as domestic and foreign marine transportation companies.