Russia's richest woman fails to attend interrogation in major bank fraud case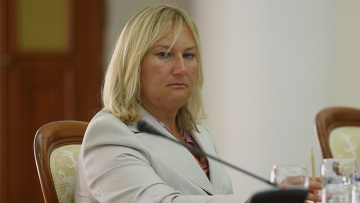 15:23 30/01/2012
MOSCOW, January 30 - RAPSI. Yelena Baturina systematically failed to attend a witness interrogation in the criminal case connected with the embezzlement of Bank of Moscow funds, the Interior Ministry reports.
"The Investigative Committee has prepared an appeal to the competent authorities in Austria on calling Yelena Baturina in for questioning as a witness in the case," the ministry said.
According to the Interior Ministry, "Baturina was called in to give testimony by way of official notifications in the order established by law."
"All of Baturina's statements that she received no notifications are false," the ministry said. "Despite repeated statements on her readiness and willingness to testify, she has systematically failed to attend the questioning."
The investigative department opened a criminal case against former Bank of Moscow President Andrey Borodin and his deputy Dmitry Akulinin in late 2010. Borodin and Akulinin were charged with embezzling 12.5 billion rubles ($398.5 million) from the Moscow budget through a loan to the Premier Estate company. Prior to granting the loan to Premier Estate, the bank issued new shares worth 15 billion rubles ($478.2). The stake was purchased by the Moscow government, the bank's majority shareholder. The Premier Estate used the funds to purchase 58 hectare land plot on the west of Moscow. Investigators say the bank's personnel was well aware of the false information the borrower submitted about the pledge to secure the loan
Baturina is Russia's richest woman and the wife of former Moscow Mayor Yuri Luzhkov. Luzhkov, who held the Moscow mayor office for 18 years, was dismissed in September 2010 via the presidential decree over the loss of credibility.