Tycoon's appeal over Constitution's article legitimacy dismissed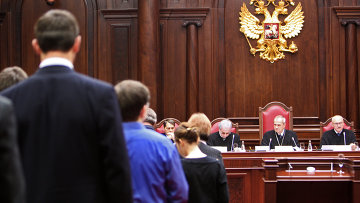 15:45 31/01/2012
MOSCOW, January 31 - RAPSI. The Constitutional Court has dismissed a steel tycoon's petition challenging the legitimacy of the provision prohibiting corporate disputes from being heard at the Russian Federation Chamber of Commerce and Industry's International Commercial Arbitration Court (ICAC).
Maxi-Group head Nikolai Maximov challenged the legitimacy of the Arbitration Procedure Code provision. He maintained that it infringes on his rights as it prohibits corporate disputes from being heard at the ICAC.
Meanwhile, the Constitutional Court found no sound reasons to accept his complaint.
The Constitutional Court has repeatedly stated that the right to judicial protection secured under the Constitution does not entitle a person to choose the legal means and forms to exercise this right.
Maximov challenged the provision after the commercial court held for the Novolipetsk Iron and Steel Works' (NLMK) appeal of the arbitration tribunal's judgment awarding Maximov over 9.5 billion rubles in the lawsuit against NLMK.
ICAC is the leading arbitration court in Russia and in East European countries which deals with resolving disputes of international character. It is the successor of the Foreign Trade Arbitration Commission (FTAC), created legislatively in 1932.