Tymoshenko extends defendants list in lawsuit against RosUkrEnergo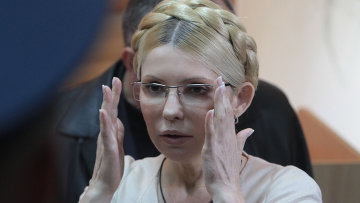 11:48 01/02/2012
KIEV, February 1 - RAPSI. Former Ukrainian Prime Minister Yulia Tymoshenko has extended the list of defendants in her lawsuit filed with a U.S. court against RosUkrEnergo to add Dmitry Firtash, RosUkrEnergo owner, Minister of Fuel and Energy Yuri Boyko, head of security service Valery Khoroshovski, and Prosecutor General Viktor Pshonka, Kyiv Post reported on Tuesday.
The extended lawsuit was submitted on December 19, 2011, after Tymoshenko signed it on December 13.
The list also includes Semyon Mogilevich, whom the FBI has been searching for many years, Paul Manafort, Viktor Yanukovych's political consultant, First Deputy General Prosecutor Renat Kuzmin, Prosecutor General's investigator Alexander Nechvoglod, and prosecutor Lilya Frolova representing the prosecution in the trial against Tymoshenko.
The summonses have been sent to all codefendants.
The document on Kyiv Post website reads that the political prosecutions in Ukraine are part of a complicated scheme developed for money laundering, particularly in the United States, and for kickbacks to Ukrainian officials.
The former prime minister reported in December that the U.S. court cannot start considering Tymoshenko's lawsuit against RosUkrEnergo and its co-founder Dmitry Firtash due to impossibility to deliver him the summons.
Tymoshenko sued RosUkrEnergo's both Swiss trader and co-founder Firtash, claiming that they misappropriated jointly with Gazprom about $1.7 billion and violated a number of federal laws, including Racketeer Influenced and Corrupt Organizations Act.
Tymoshenko's lawsuit is centered on 2009 gas conflict after negotiations between Kiev and Moscow on gas supplies to Ukraine and its transit to Europe were deadlocked.
In the absence of a supply contract Russia stopped supplying gas to Ukraine and then to Europe since Kiev started taking gas for own needs.
Russia's Gazprom and Ukraine's Naftogaz refused the mediators' services, particularly those of RosUkrEnergo which eventually contested the ownership of 11 billion cubic meters of gas at the Stockholm Arbitration Tribunal. Tymoshenko believes that yielding to Firtash's pressure, the tribunal obligated Naftogaz to return RosUkrEnergo the gas taken in January 2009.