Opposition leader not to contest presidential race expulsion in ECHR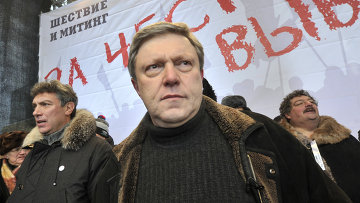 12:26 09/02/2012
MOSCOW, February 9 - RAPSI. Opposition leader Grigory Yavlinsky will not go to the Strasbourg Court to challenge the Supreme Court's decision affirming the Central Election Commission's refusal to register him as presidential candidate, but the Yabloko party will continue its political campaign, Yabloko Chairman Sergei Mitrokhin said.
"We are determined to continue our struggle for the state governed by the rule of law. The Supreme Court's decision once again evidences that Russia is far from becoming a law-bound country. At the bottom line we need to change a political regime in the country in a constitutional manner," Mitrokhin said.
The election commission refused to register Yabloko party founder Yavlinksy as presidential candidate. Yavlinsky appealed the decision.