Lawsuit by Khodorkovsky's partner for illegal arrest to be heard on February 29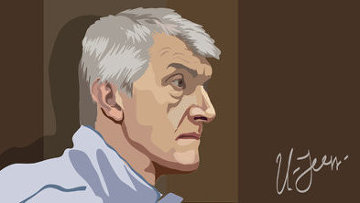 15:31 14/02/2012
MOSCOW, February 14 - RAPSI. The Moscow District Court will hear on February 29 former Menatep head Platon Lebedev's lawsuit to receive $6,115 in compensation for illegal custody, the official website of Lebedev's and Khodorkovsky's press center reports on Tuesday.
In his lawsuit, Lebedev cites the Supreme Court's ruling that found illegal a number of his arrest extensions.
"Therefore, the plaintiff was held in custody for three months illegally, and in connection with this he requests compensation for moral harm," the claim reads.
The Finance Ministry is a defendant in the case.
Lebedev's defense also reported that on Monday it submitted a second lawsuit seeking compensation for groundless custody, which concerns another period in Lebedev's arrest.
The YUKOS case has been one of the most high profile in Russia in recent years. In the early 2000s, the authorities accused the executives of YUKOS, then the country's largest oil company, of economic crimes. YUKOS then went bankrupt while its assets were transferred to Rosneft. Many in the West believe the case was politically driven, but Moscow denies the charges.
In 2005, Khodorkovsky and Lebedev were sentenced to eight years in prison for fraud and tax evasion. In late 2010, a Moscow district court sentenced them to 14 years in prison for oil theft and money laundering. They were expected to be released in 2017, taking into account the time they had already served for their convictions from their first trial in 2005. However, on May 24, the Moscow City Court reduced their sentences by one year. They now may be released in 2016.
Khodorkovsky is doing time at Segezha Prison, while Lebedev is kept at Velsk Prison.