Russia refutes allegations of military crimes in South Ossetia in 2008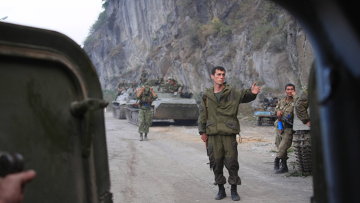 12:26 24/02/2012
MOSCOW, February 24 - RAPSI. The allegations made by Georgian authorities about crimes committed by Russian servicemen military during the 2008 South Ossetia conflict are false, the Investigative Committee's spokesman Vladimir Markin told journalists on Friday.
"In their application to the European Court f Human Rights Georgian authorities groundlessly accuse Russia of the absence of an efficient investigation into crimes allegedly committed during the armed conflict by Russian troops in Georgia and Southern Ossetia. The Georgian statements are untrue," said Markin.
"Neither Georgian servicemen, while interrogated as witnesses, nor civilians, ethnic Georgians inclusive, told anything about unlawful acts by Russian servicemen," he added.
According to Markin Georgian authorities refused to render legal assistance to Russia under a far-fetched pretext.
In the night of August 8, 2008 Georgian troops attacked South Ossetia and destroyed part of its capital Tskhinvali. Russia moved its troops into the republic in order to defend many of its residents who had Russian citizenship and five days later forced Georgian forces out of the country.
Tbilisi reacted to the Russian recognition of South Ossetian and Abkhazian independence by severing diplomatic relations with Russia and declared its former autonomies occupied areas.