U.S. court dismisses Ukrainian ex-minister's lawsuit against Prosecutor General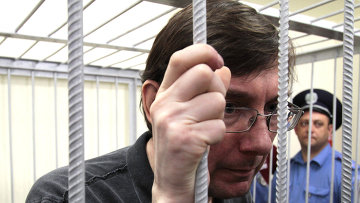 12:41 24/02/2012
MOSCOW, February 24 - RAPSI. The United States District Court for the District of Columbia dismissed the lawsuit filed by Ukrainian ex-Interior Minister Yuriy Lutsenko, charged with abuse of office, against Prosecutor General Victor Pshonka and several of his subordinates, according to the decision made available to the Russian Legal Information Agency (RAPSI/rapsinews.com).
The court dismissed the lawsuit because the plaintiff failed to follow court orders and did not provide any credible explanation of his failure to comply with court order.
Particularly, Lutsenko was ordered to inform the court about the defendants' notification. Lutsenko was expected to file a Status Report describing his efforts to effect services of process upon the defendants yet on February 8. However, the plaintiff failed to submit the report.
Lutsenko, who has been charged with abuse of power, submitted a lawsuit against Pshonka and several of his subordinates to the District Court for the District of Columbia in December 2011.
Lutsenko alleges that his prosecution is politically motivated and claims moral damages without mentioning the amount.
Lutsenko accused the defendants of breaching the inviolability of his person through his arbitrary arrest and unreasonably prolonged detention. He also accused them of inhumane treatment.
Lutsenko was arrested in late 2010. The court has dismissed all his appeals. Lutsenko was accused of employing his personal driver at the ministry and providing him with an apartment and a pension. He is also blamed for overspending on Police Day celebrations. Investigators estimate the damages inflicted by Lutsenko against the state at 1 million gryvnias ($125,000).
The prosecutor's office claims four and a half years in prison for Lutsenko, while his attorneys maintain that the whole case is politically driven and request the court to acquit him on all counts.
A district court of Kiev set February 27 to pronounce the sentence.