Heineken union leaders seek job reinstatement in court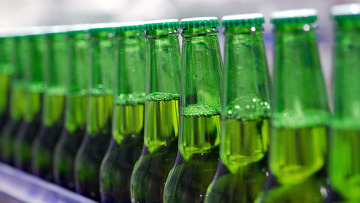 14:30 27/02/2012
ST.-PETERSBURG, February 27 - RAPSI. Fired Heineken Joint Breweries trade union leaders have filed a lawsuit with a district court to regain their employment, Vitaly Morozov, one of the fired trade unionists, told RIA Novosti.
Heineken Joint Breweries in St. Petersburg is Heineken's Russian branch.
The brewery's trade unions held a one-hour warning strike on November 10. On December 15, they held a 24-hour strike. The trade union sought to amend the workday and accounting period, which they deemed unlawful. The trade unions also protested contract and agency labor.
The plant's management reprimanded the employees who took part in the strikes.
Trade union leaders Morozov and Sergei Kolegov went on hunger strike on January 12-16, protesting the reprimands. They were sacked in late January.
"We mailed two lawsuits to the court today. We seek reinstatement and the cancellation of our disciplinary punishments. A pretrial hearing may be held on March 12-15," Morozov said.
The brewery administration maintains that the employees were fired due to their recurring failure to fulfill their labor duties without valid reasons.
The St. Petersburg Labor Inspectorate ordered the brewery management on January 23 and February 3 to cancel the punishment for taking part in the November and December strikes. The Prosecutor's Office also deemed their dismissal unlawful and ordered the management to rectify the violations.
The brewery has 350 personnel. There are two trade unions at the enterprise. Their have 45 members.It is the largest, most advanced Heineken brewery in Russia.