Shipyard's lawsuit to recover $100mln from Alfa-Bank dismissed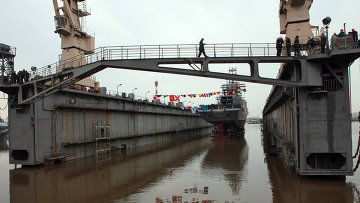 16:04 01/03/2012
MOSCOW, March 1 - RAPSI. A commercial court has dismissed Severnaya Verf's (Northern Shipyard) lawsuit to recover $100.18 million in losses from Alfa-Bank, the Russian Legal Information Agency (RAPSI/rapsinews.com) reported from the court on Thursday.
The lawsuit also contains the requirement to obligate the bank to grant the shipyard credit as part of the execution of the government's September 8 order.
The document stipulates that Alfa-Bank, VTB Bank and Sberbank should have granted the shipyard 22 billion rubles ($749.65 million) for the execution of the state order.
Pursuant to the order, the government was to provide state guarantees under Alfa-Bank's credit worth a maximum of 12.616 billion rubles ($429.89 million), and under VTB Bank's credit worth a maximum of 2.87 billion rubles ($97.79 million).
A similar lawsuit amounting to 1.47 billion rubles ($50.09 million) was submitted against VTB and will be considered on Thursday.
Severnaya Verf said was keeping up correspondence with VTB and Alfa-Bank on the credit contract terms. The plaintiff believes the contracts were concluded. Thus, it seeks to obligate the banks to grant the credits and to recover the losses incurred due to its failure to pay contractors on time.
Alfa-Bank believes the contract was not concluded and the letters that the plaintiff provided to the court were signed by unauthorized individuals. Documents on granting credit can only be signed by the board chairman and the documents provided by the plaintiff are merely correspondence between the parties, Alfa-Bank said.
According to the defendant, the plaintiff never confirmed if there were losses on the plants pledged shares.