Former Ukrainian defense minister sentenced to five years in prison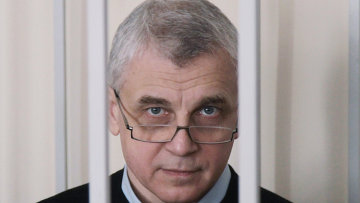 13:31 12/04/2012
KIEV, April 12 - RAPSI. The Kiev District Court has sentenced to five years in prison former acting Ukrainian Defense Minister Valery Ivashchenko, who was accused of abuse of power.
Ivashchenko served as the acting defense minister from June 2009 to March 2010.
He was arrested in August 2010. The Prosecutor General's Office accused him of illegally selling the Feodosia Ship and Mechanical Plant's property. The states losses were estimated at $8.8 million.
The prosecution asked the court to sentence him to six years in prison.
Ivashchenko frequently complains about his health. He required urgent medical assistance on several occasions during the trial.
The Parliamentary Assembly of the Council of Europe adopted a resolution in January expressing its concern over the prosecution of Ivashchenko, former Prime Minister Yulia
Tymoshenko and former Interior Minister Yuri Lutsenko.
The authorities deny that the trials are politically motivated.