Tymoshenko disputes disclosure of data on her treatment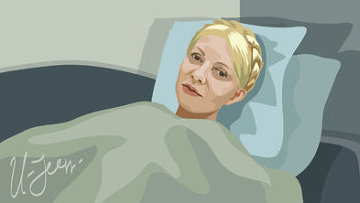 18:14 21/05/2012
KIEV, May 21- RAPSI. Former Ukrainian Prime Minister Yulia Tymoshenko has filed a lawsuit claiming that confidential information regarding her treatment has been unlawfully disclosed.
German doctor Lutz Harms began treating Tymoshenko at a hospital on May 9.
A colleague from the German hospital of Charite arrived to Kharkiv to substitute him on Monday.
The penitentiary service published on its website information about Tymoshenko's treatment and food allowance as prescribed by the doctors.
The former prime minister's defense was outraged that the information was published.
Dr. Harms said such actions affect the level of trust between a patient and his doctor.
Head of the Charite hospital Karl Marx Einhaeupl said in late April that Tymoshenko had been diagnosed with spinal disc herniation.
Tymoshenko was sentenced to seven years in prison for abuse of power in signing a gas agreement with Russia in 2009. Another criminal case was submitted against Tymoshenko for financial crimes during her tenure as the head of United Energy Systems of Ukraine in the 1990s.