Justice Ministry has no return petition from Bout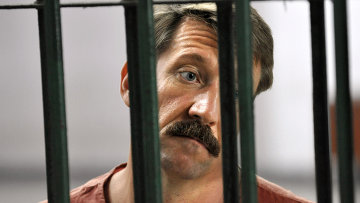 14:25 23/05/2012
MOSCOW, May 23 - RAPSI. The Justice Ministry did not receive a petition from alleged arms dealer Viktor Bout to return to Russia, the ministry told RIA Novosti on Wednesday.
According to the Convention on the Transfer of Sentenced Persons dated March 21, 1983, to which Russia and the United States are both parties, the ministry is authorized to file requests with the competent authorities to transfer convicts home.
"Bout's petition to return is needed to file a request with the U.S. Department of Justice, but the ministry has not yet received such a petition," the ministry said.
U.S. Attorney General Eric Holder said the United States may consider the possibility of Bout serving his sentence in Russia if it receives the relevant request. According to Justice Minister Alexander Konovalov, the transfer would require a trilateral agreement between all the parties involved - the United States, Russia and the convict himself.
Foreign Ministry spokesman Alexander Lukashevich said Moscow was ready to discuss Bout's possible return to Russia with the United States.
Bout was sentenced to 25 years in prison by the New York Federal Court for planning to sell arms to the Colombian Revolutionary Armed Forces. The U.S. agents who dealt with Bout presented themselves as the armed forces' commanders.
Bout has pleaded innocent.