Charity fund's lawsuit against TV channel to be heard on June 27
14:18 25/05/2012
MOSCOW, May 25 - RAPSI, Diana Gutsul. The Moscow Zamoskvoretsky District Court postponed until June 27 the hearings into the Federatsiya charity fund's defamation lawsuit against the Dozhd TV channel, the defendant's representative told the Russian Legal Information Agency (RAPSI/rapsinews.com) on Friday.
The fund referred to the court following the airing of negative comments about a charity evening in which then-Prime Minister Vladimir Putin participated.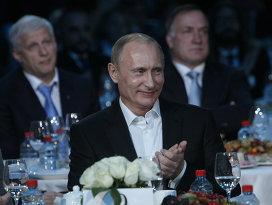 Prime Minister Vladimir Putin at a charity concert in St. Petersburg.
The plaintiff seeks to recognize the comments made during the "Here and Now" (Zdes I Seychas) program on March 15, 2011 as false and defamatory.
Two TV channel employees were attracted as co-defendants in the lawsuit.
The plaintiff does not request financial compensation.
In late 2010, the charity fund hosted a charity concert in St. Petersburg in which the prime minister took part and sang a song.
However, in March 2011, the mother of a girl suffering from cancer later published an open letter claiming that she had not received the promised financial aid from the event. It turned out various hospitals had not received their money either. The charity then said the concert was only held to draw attention to the problems of sick children and the medical institutions treating them.
Nevertheless, the money was paid to the hospitals after the scandal.