Investigators refer to court on procrastination in Pussy Riot case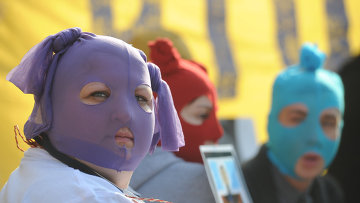 17:17 03/07/2012
MOSCOW, July 3 - RAPSI. The investigation into the Pussy Riot case will submit to the Tagansky District Court an appeal to limit until July 9 the term for studying the case materials, the Interior Ministry said on Tuesday.
"The application is stipulated by the fact that the defendants Mariya Alyokhina, Nadezhda Tolokonnikova and Yekaterina Samutsevich and their attorneys are clearly trying to stretch out for as long as possible the process of studying the case materials," the ministry said.
The application is expected to be submitted on July 4.
The group of five masked women performed a protest song titled, "Holy Sh*t," at the altar of the Christ the Savior Cathedral in Moscow. The lyrics included lines such as, "Holy Mother, Blessed Virgin, Chase Putin Out!" The video was posted online and evoked a massive public outcry.
Pussy Riot said their performance was a response to Orthodox Church head Patriarch Kirill's backing of then-Prime Minister Vladimir Putin's election bid. Putin won a landslide victory in the presidential election. The patriarch called the 12 years of Putin's rule a "miracle of God" during a televised meeting.
The defendants are accused of disorderly conduct and face up to seven years in prison.
On June 20, the Tagansky District Court extended the custody of the Pussy Riot members.
On Wednesday, the court will consider the investigators' application to limit the term for studying the case materials.