Stalin's grandson appeal in defamation lawsuit dismissed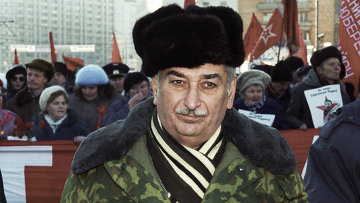 15:07 12/07/2012
MOSCOW, July 12 - RAPSI. On Thursday, the Moscow City Court dismissed the appeal by Stalin's grandson Evgeny Dzhugashvili against a district court's refusal to uphold the defamation lawsuit against head of the FSB Registration and Archives Department Lt. Gen. Vasily Khristoforov, Dzhugashvili's attorney Sergei Strygin told the Russian Legal Information Agency.
According to the statement of claims, Khristoforov "publically stated" at a November conference at the WWII museum that Stalin was involved in the Katyn execution.
In the plaintiff's opinion, Khristoforov falsely claimed that Stalin was responsible for the execution in Katyn and other POW camps and that it was Stalin who ordered the killing of Polish nationals in the camps and prisons of West Ukraine and Belarus. Strygin believes that Khristoforov's statements degrade the dignity of Evgeny Dzhugashvili's grandfather.
Dzhugashvili alleged that the criminal case of the mass murder of Polish POWs in Katyn was part of the indictment against Hermann Goering and Alfred Jodl at the International Military Tribunal in Nurenberg and that they were found guilty of committing the crime.
Dzhugashvili previously lodged a similar lawsuit with the Supreme Court, but it was returned without a hearing. He was then advised to appeal to a district court.
The Soviet authorities blamed the Katyn massacre on the Nazis, saying that the crime took place in 1941 when the territory was occupied by German troops. However, Mikhail Gorbachev formally admitted in 1990 that the executions were carried out by the Commissariat for Internal Affairs in 1940.
In the 1990s, Russia handed over copies of documents from top-secret File No.1 to Poland which squarely placed the blame on the Soviet Union. Last November, the Duma approved a resolution recognizing the massacre as a crime committed by Stalin's regime.