Pussy Riot prepares address to UN Secretary General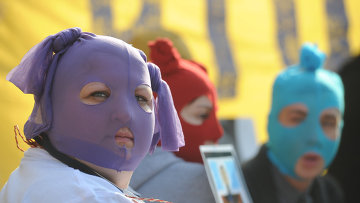 16:22 12/07/2012
MOSCOW, July 12 - RAPSI. One member of Pussy Riot punk rock group has prepared an address to United Nations Secretary General Ban Ki Moon in connection with the criminal charges pending against the group, according to attorney Mike Feygin.
He also added that Pussy Riot members Nadezhda Tolokonnikova and Miriya Alyokhina are no longer on the hunger strike that they announced after their time to prepare for trial was drastically reduced and their arrest was extended until July 24.
A third member Yekaterina Samutsevich is still on a hunger strike.
It became known on Thursday that the case against the Pussy Riot members was submitted to the Moscow Khamovnichesky District Court.
On February 21, five masked members of the Pussy Riot punk group performed a protest song called "Holy Sh*t" at the altar of the Christ the Savior Cathedral in Moscow.
A video of their performance that was posted on the Internet incited a major public uproar. Tolokonnikova, Alekhina and Samutsevich were arrested. They face up to seven years in prison on hoolaginism charges.