Charges brought against Navalny in Kirovles case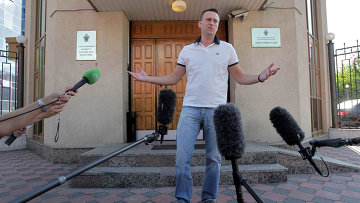 14:11 31/07/2012
MOSCOW, July 31 - RAPSI. The Investigative Committee has brought charges against whistleblower and opposition leader Alexei Navalny in the Kirovles case, the committee's official spokesperson Vladimir Markin told RIA Novosti on Tuesday.
He has been allowed to remain free on his own recognizance.
"Navalny has been charged with committing a crime stipulated by the Criminal Code articles on the 'Organization of the Large-Scale Misappropriation of Property,' " Markin said.
Navalny previously served as an adviser to the Kirov governor. Earlier, investigators looked into Navalny's activities as an adviser and concluded that he persuaded the Kirovles company's management into signing an unfavorable timber contract.
In May 2011, the committee said it was opening a case against Navalny for causing property damage through deceit or abuse or trust, which is punishable by up to five years in prison.
In May 2012, Navalny wrote on his LiveJournal blog that the case had been closed. The news was confirmed by a local investigator.
However, Markin later said the decision had been reversed.