Pussy Riot trial underway in presence of British MP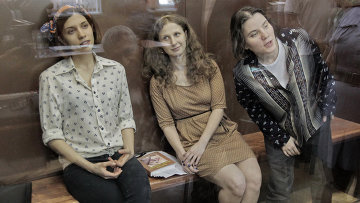 13:31 06/08/2012
MOSCOW, August 6 - RAPSI. Day six of the Pussy Riot trial has been underway, and unsurprisingly much of this morning's proceeding has centered on the ongoing arguing between defense attorney Violetta Volkova and Judge Marina Syrova. The status quo was shaken a bit however by the arrival of British Member of Parliament (MP) Kerry McCarthy, who - according to Volkova - may only be the first of several foreign MPs and lawmakers expected to arrive.
As the hearing began, Volkova reiterated concerns she voiced before the close of trial Friday evening about a psychological-linguistic examination of the girls' performance that was presented to the court as evidence last week. Volkova complained of Judge Syrova's repeated refusal to consider defense motions. As usual, the two exchanged a number of remarks, including Syrova's plea that Volkova stop delivering a history lecture to the court.
MP McCarthy arrived to the courtroom in the midst of the conflict.
In connection with the evidence that Volkova began by questioning, another defense lawyer Mark Feigin asserted that the lead expert that administered the examination co-authored a book on homosexuality evaluations with one of the aggrieved parties. This may present a conflict of interest.
The defense urged the judge to allow them to call the expert at issue to the stand for questioning.
This morning's proceedings were set to begin at 10am. The trial was delayed due to the Pussy Riot girls' late arrival. They arrived shortly after 10:30am, at which point members of the press and the public were allowed to file into the courtroom. The hearing began shortly before 11am. The courtroom was extremely crowded this morning, likely due to increasing domestic and international scrutiny of the trial.
Group members Nadezhda Tolokonnikova, Maria Alyokhina, and Yekaterina Samutsevich remained in pretrial detention since their early March arrest for an incident that some have lauded as a valid exercise of free speech, and that others have lambasted as blasphemous. Group members face up to seven years in prison.
On February 21, five girls wearing brightly colored masks stormed the altar of downtown Moscow's Christ the Savior Cathedral to perform a protest song entitled, "Holy Sh*t." A video with their performance was posted on the Internet and incited a public uproar.