Pro-Kremlin youth seek court-ordered removal of Navalny from Aeroflot board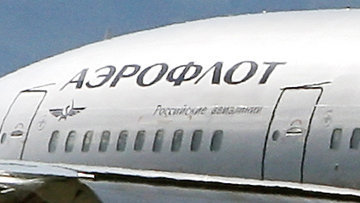 12:30 07/08/2012
MOSCOW, August 7 - RAPSI. Nashi, a pro-Kremlin youth movement, submitted to Moscows Presnensky and Tagansky District Courts applications seeking to deprive renowned opposition leader Alexei Navalny of his status as an Aeroflot board member; but attorneys that spoke with the Russian Legal Information Agency (RAPSI/rapsinews.com) are doubtful these lawsuits will succeed.
Aeroflot is Russia's largest airline and is a member of SkyTeam global air alliance. The state, represented by the Federal Agency for State Property, is the airline's major shareholder with a 51.17-percent stake.
The applications are based on a provision in the law on lawyers, which states that lawyers have no right to work anywhere other than legal institutions.
Attorney Alexander Glushenkov told the Russian Legal Information Agency that Navalny's status as a lawyer does not hinder his work on the Aeroflot board, since board membership is an elective office.
Attorney Vadim Prokhorov said that, pursuant to the code of legal ethics, attorneys have no right to be engaged in paid activities, particularly sales of goods and paid services. Glushenkov told RAPSI, "As far as I know, the post is not paid, moreover this is not a post, but an elective office."
Therefore, attorneys see no obstacles for Navalny's work on the Aeroflot board.
RAPSI has yet to obtain comments from Navalny's representatives.
Alexei Navalny joined the board of Aeroflot in June. He will be involved in auditing, human resources, and reward issues by participating in the work of the relevant committees.
Businessman Alexander Lebedev, who owns about a 15 percent stake in Aeroflot, proposed Navalny's candidacy to the Aeroflot board.