RosUkrEnergo says Tymoshenko's lawsuit politically motivated in U.S. court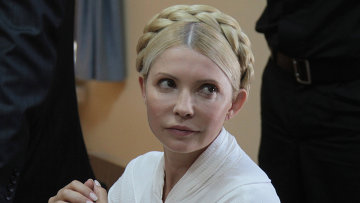 16:47 07/08/2012
MOSCOW, August 7 - RAPSI, Vladimir Yaduta. The Swiss-registered gas trader RosUkrEnergo has said in a U.S. court that former Ukrainian Prime Minister Yulia Tymoshenko's claims against the company are politically motivated and requested her lawsuit's dismissal.
"The case concerns the warring political parties in Ukraine and this lies outside the jurisdiction of U.S. courts," the company said in its statement. RosUkrEnergo added that the company is involved in gas trading in Europe and the CIS, and it has no business in the United States, particularly New York.
The documents submitted to courts are backed by statements by RUE President Lars Haussmann and RUE board member Slawa Margulis.
The lawsuit against RosUkrEnergo was filed on behalf of Tymoshenko, the people of Ukraine and a group of opposition politicians kept under detention or prosecuted by the investigative authorities. According to the plaintiffs, powerful circles in Ukraine have established a complex money laundering scheme abroad and a bribery scheme to bribe Ukrainian officials.
The plaintiffs maintain that the authorities persecute anyone who stands in their way.
Tymoshenko earlier extended the list of defendants in her lawsuit against RosUkrEnergo and Firtash. It now includes Fuel and Energy Minister Yuri Boyko, head of the security service Valery Khoroshovski and Prosecutor General Viktor Pshonka.
The list also names Semyon Mogilevich, whom the FBI has been hunting for years, President Viktor Yanukovych's political consultant Paul Manafort, First Deputy General Prosecutor Renat Kuzmin and prosecutor Lilya Frolova, who represents the prosecution in the trial against Tymoshenko.
The plaintiffs accuse them of corruption, fraud and human rights violations.
Tymoshenko's lawsuit centers on a 2009 gas conflict after negotiations stalled between Kiev and Moscow on gas supplies to Ukraine and gas transit to Europe.
In the absence of a supply contract, Russia stopped supplying gas to Ukraine and then to Europe, as Kiev started siphoning off gas for its own needs.
Russia's Gazprom and Ukraine's Naftogaz refused mediators' services, particularly RosUkrEnergo, which eventually contested the ownership of 11 billion cubic meters of gas in the Stockholm Arbitration Tribunal.
Tymoshenko believes that yielding to Firtash's pressure, the tribunal obligated Naftogaz to return to RosUkrEnergo the gas taken in January 2009.