Two suspects in Moscow May 6 riots case released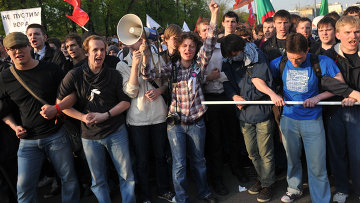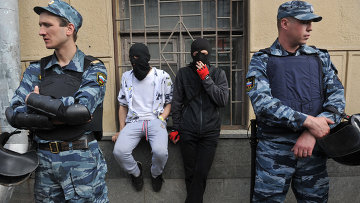 13:26 10/08/2012
MOSCOW, August 10 - RAPSI. Two individuals allegedly involved in the central Moscow riots were released on their own recognizance, Vladimir Markin, the official spokesperson for the Investigative Committee, said on Friday.
He said that Rikhard Sobolev and Oleg Arkhipenkov had been released. This decision was based on the fact that both men are permanent Moscow residents and that investigators are finished with them for now.
Clashes with police flared up on May 6 during an opposition march across Moscow. The public gathering had been granted city permits. Dozens of protesters and police officers were injured. The police detained over 400 rally participants.
In total, 13 individuals were detained as part of the case: Alexandra Dukhanina, Andrei Barabanov, Maxim Luzyanin, Yaroslav Belousov, Rikhard Sobolev, Vladimir Akimenkov, Olega Arkhipenkov, Fyodor Bakhaov, Artyom Savelov, Alexander Kamensky, Mikhail Kosenko, and Stepan Zimin. Kamensky was later released and no charges were brought against him. Maria Baronova, who was free under her own recognizance, also became a suspect in the case.
Luzyanin, Barabanov, Zimin, Lutskevich, Dukhanina, Belousov, Savyolov and Kosenko were charged with inciting the riots. Almost 1,300 people were interrogated in the case.