Artist loses second case on displaying icons in defense of Pussy Riot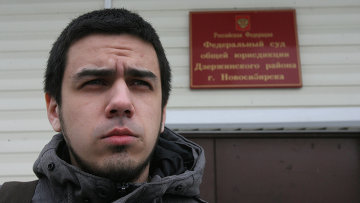 12:27 14/08/2012
NOVOSIBIRSK, August 14 - RAPSI. Novosibirsk's Zheleznodorozhny District Court upheld a ruling of the magistrate's court which fined local artist Artyom Loskutov for putting up icons in defense of Pussy Riot in the streets of Novosibirsk, Loskutov said.
Therefore, the court has dismissed Loskutov's appeal who sought to rescind the decision of the magistrate's court which in June found him guilty of displaying a religiously offensive imagery and fined the artist 500 rubles ($15.7).
"The magistrate court's decision on the 500 ruble fine has remained in effect," Loskutov wrote in his Twitter.
The Novosibirsk Central District court considered a similar appeal in the first case connected with the displaying of an icon in defense of Pussy Riot. The court held against the appeal to dismiss the decision, which was found to be groundless. Loskutov has been given another fine worth 500 rubles.
In March, images stylistically reminiscent of icons appeared on light boxes. The icon-esque images were in support of the arrested Pussy Riot band members. Particularly, one poster showed a haloed mother and child composition, with the woman wearing a Pussy Riot style stocking-mask. Law enforcement authorities identified Loskutov as the alleged vandal.
Three administrative cases based on offences against religion were initiated against Loskutov. The magistrate court acquitted Loskutov on one count for lack of evidence. Of the two remaining counts, Loskutov was found guilty and was fined a total of 1,000 rubles.
On February 21, five girls wearing brightly colored masks stormed the altar of central Moscow's Christ the Savior Cathedral to perform a protest song entitled, "Holy Sh*t." A video with their performance that was posted on the Internet incited a public uproar.
Group members Nadezhda Tolokonnikova, Maria Alyokhina, and Yekaterina Samutsevich have remained in pretrial detention since their arrest in early March after an incident that some have lauded as a valid exercise of free speech, and others have lambasted as blasphemous.