Ukraine hands Russia Putin assassination attempt suspect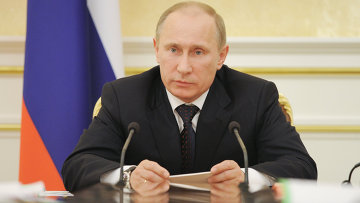 11:46 27/08/2012
MOSCOW, August 27 - RAPSI. The Ukrainian authorities have extradited Kazakh citizen Ilya Pyanzin to Russia at the request of the Russian Prosecutor General's Office, Kommersant daily reports.
Pyanzin is accused of organizing an attempt to assassinate Vladimir Putin.
Pyanzin and fellow suspect Adam Osmayev allegedly planned to assassinate Putin after the Russian presidential elections last March. Pyanzin and Osmayev were arrested in Ukraine and charged with several crimes, including plotting to assassinate an official, organizing a terrorist act, and belonging to a terrorist organization. Both of them had previously been placed on an international wanted list.
Earlier, the court dismissed Osmayev's extradition appeal and upheld the Prosecutor General's Office's decision to transfer him to Russia. However, Osmayev had submitted an application to the European Court of Human Rights (ECHR), which in turn advised Ukraine to suspend the extradition proceedings. Osmayev's extradition has been suspended until the Strasbourg court passes a judgment on the lawfulness of his extradition.
Ukrainian human lawyer Valery Kochetov of Odessa Academy believes that Pyanzin's extradition to Russia was in violation of the European Convention on Human Rights and Ukrainian law, and that his extradition only went through because Pyanzin and his defense were too slow in filing an appeal to the ECHR.
Last Wednesday, the Odessa Region Court of Appeals upheld the Ukrainian Prosecutor General's Office's resolution on Pyanzin's extradition. The following day, according to Kommersant, prosecutors prepared Pyanzin for extradition; on August 25, the office handed the individual over to the Russian special services. On the same day, Pyanzin was delivered to Moscow and placed in the Lefortovsky isolation ward.